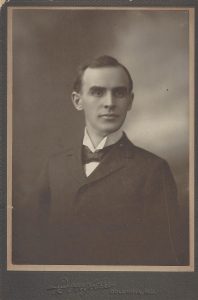 This photo was purchased at Keen Eye Antiques in Ozark, Missouri on March 31, 2016. The back of the photo has a penciled inscription "L.E. Durham." The bottom front of the photo has an embossed photographer emblem "Douglass Columbia Missouri." I searched for L.E. Durham at Ancestry.com and landed the Yearbook page below that indicates a L.E. Durham was the 1898 Class President at University of Missouri. I assume they are one and the same. Other yearbook pages at Ancestry.com show that he was a Debate Team member. The trail ran cold after those finds. Where did L.E. Durham go after Mizzou? Did he use his debating skills in a career? Did he marry? Are there descendants to whom this picture can be returned? The search is on! Any help or clues appreciated!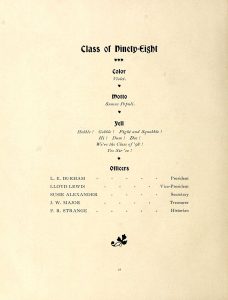 UPDATE: a visit to Google.com with search words "L.E. Durham Attorney Missouri" landed a 1917 Hubbell's Legal Directory that includes a listing for Ingraham, Guthrie, & Durham, a law firm in Kansas City, Missouri. One of the attorneys and apparent partner in the firm was one L.E. Durham. It seems that Mr. Durham did indeed find use for his debating skills. The firm practiced general law and one of their notable clients was Kansas City Stockyards.  Still hunting to determine if Mr. Durham has descendants!
ANOTHER UPDATE: After learning that Mr. Durham practiced law in Kansas City, I was able to find him listed in the 1900, 1910, and 1940 censuses under the name of Lisbon E. Durham, living in the Kansas City area. He was born 1873-1875, depending on which census you are reading. He was married to May in 1910 and Margaret in 1940 who could be the same person. There are no children listed in those particular censuses, but if he can be found in the 1920 and 1930 censuses, there will be a more definite answer on whether or not Lisbon Durham had children.
LATER UPDATE: A search for Lisbon Durham with a birth year range of 1873-1875 in Family Search.org landed me some new information. Lisbon Elwood Durham registered for the draft in WWI while residing in Kansas City and working as an attorney. He registered September 1918, just two months before the war was over. The registration form shows his birth date as September 24, 1873, so he was 45 at the time he registered. At FamilySearch.org a death record for Lisbon E. Durham with a September 24, 1973 birth date shows that he died in San Diego, California on August 11, 1960.
A NEW ANGLE: Still wondering where Lisbon Durham was in 1920 and 1930, I searched FamilySearch.org under his wife's name, May Durham, and landed a 1920 census. Lisbon's name had incorrectly been indexed as Lislon B. Durham. The 1920 census shows them with three children: William E., age 8, Margaret J. age 6, and Robert J, age 3-9/12. It is unlikely that these children are still alive. The youngest, Robert would be 100 this year. More hunting left to find grandchildren of Lisbon E. Durham. A search for William E. Durham at FamilySearch.org produced a death record for a William Elston Durham, birth date of November 4, 1911, who died December 4, 1989 in San Diego. A search for Robert J. Durham at FamilySearch.org landed a death record for a Robert J. Durham with mother's maiden name Elston who died in San Diego California on December 27, 1993. It seems the whole family had moved to San Diego.
LOOKING FOR A GRANDSON: Further Google searches landed a Robert J. Durham, Jr. in San Diego who was born 1941 in Kansas City, Missouri. It's highly likely he is Robert J. Durham's son and the grandson of Lisbon E. Durham. In fact, he is a lawyer, just like his grandfather. Finding contact information for him is the next challenge.