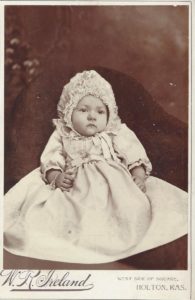 This lovely old photo was purchased at Cadwell's Downtown Flea Market in historic downtown Branson in December 2018.  The caption on the back says: "Lou Newman" with "Schaffer" written above it. Another line says "John & Sadie Newman" followed by "Tuckie's brother." I searched in Ancestry.com in member trees for Lou Newman and used Schaffer as the surname of her husband and found one "Louticia Newman" who married Earl M. Shaffer. Louticia was born in Jackson County, Kansas. The photographer stamp on the photo says Holton, Kansas. A quick google search told me that Holton is the county seat of Jackson County, Kansas, so that helped confirm it is a match. A search for Louticia Shaffer on FindaGrave.com yielded a picture of Lou's tombstone in Fort Morgan, Colorado, showing she was born 1893 and died in 1967. Wow, that helps date this photo as about 1893-1894!
I'll message the contributor of the family tree to see if that person is a descendant who would like this old photo mailed to them.
UPDATE: This was one of my quickest "mystery solved" cases. My message to the contributor of the Ancestry member tree got a response in under one hour. This photo is on its way to Tucson, Arizona where Sharon will deliver it to her husband's family. Another happy return!