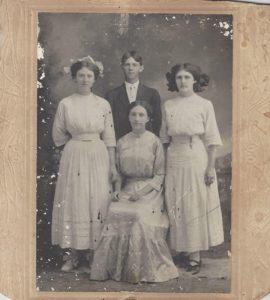 I purchased this photo on April 4, 2019 at Southern Mercantile in Prairie Grove, Arkansas. Southern Mercantile is in a historic building, beautifully restored with all the antique merchandise attractively displayed. The photo was in a display box with a collection of about 20 photos. The back of the photo contained a caption with their names and with the unusual surname of Sligar, I was able to find them fairly easily at FamilySearch.org.  The four children pictured are four of the 15 children of Jacob Lafayette Sligar Jr. and Sarah Brock. The couple married in 1866 in McMinn County, Tennessee and all the children were born there. Jacob died in 1922 and Sarah in 1936 in Chattanooga TN and they are both buried there.
The couple's 9th child, Maggie, who is pictured, had the name of Sarah Magdalene Sligar according to FamilySearch.org. Another photo purchased with this group was labeled "Maggie Power's children." Once I found Sarah Magdalene Sligar on the Family Tree in Family Search and saw that her husband was Luther Bryson Powers, then I knew that the two pictures were connected. To seal the deal, Maggie's profile on the tree indicated she had three sons and two daughters and the birth order matched that of those pictured below. Maggie Sligar Powers was born in 1882 and married in McMinn TN in 1906. However, by the 1910 census, she and her husband and young family were living in Derenger, Washington. Then in 1920 they were in Woodburn, Oregon. In 1930 they were enumerated in El Monte, CA. She died in 1943 and is buried at San Gabriel, Los Angeles County, CA.  It's still a mystery why the family pictures are in a flea market in Arkansas. I'll be messaging the contributors to Maggie's profile on Family Search to see if they are direct descendants. If so, I'll be happy to get these photos back to the family.
UPDATE: Through information in an obituary of her brother, I was able to find Juanita, daughter of Ethel Sligar Legg and talk to her by phone. She gave me her cousin, Edwina's number. So we had a fun three-way call in which they identified their mothers in the photo. The photo is being mailed to Chattanooga TN to be reunited with family. Another happy return! Plus Edwina is putting me in touch with a family member in California who she thinks will be able to help me reunite the below picture to descendants of Maggie Powers.