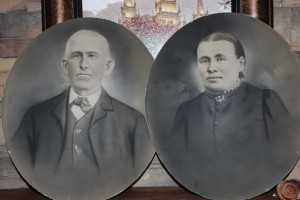 Purchased at Backyard Antiques in Clinton, Arkansas.  The photos are rounded and obviously were once framed under convex glass. The only notations on the back:
His:  Mr. Frank Kozeluh (although could be Kuzeluh) Mary's father.  1956  (date must refer to some event other than the picture date)                     Hers:  Mrs. Frank Kozeluh, mother of Mary,  Mary's parents, 1956
I've researched this family name in Arkansas and learned that some Kozeluhs were part of a Czech settlement near Dardanelle, Arkansas.  Charles Kozeluh died there in 2008.  A brother of Charles, James F. Kozeluh, born 1895 at Dardanelle, Yell County, Arkansas died in 1981 and is buried in Rawlins, Carbon County, Wyoming. (findagrave.com)  I have spoken to a daughter of James who resides in Wyoming, and we are trying to determine if this is her grandparents, possibly great-grand parents???
I found the Kozeluh name listed in an Arkansas phone directory and visited the guy's home to show him the pictures but he does not believe this is his family.
Census entries found at FamilySearch.org show entries for a Frank Kozeluh in the 1880-1940 censuses in places such as Chicago, Illinois and Cleveland, Ohio.
Can anyone look at the style of dress and estimate the year these photographs were taken?
I'm very anxious that these beautiful, old photos get returned to sit on the mantle of  their descendants rather than mine.