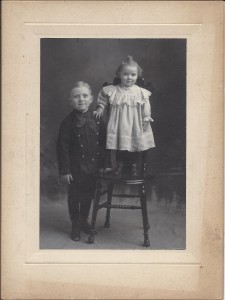 This photo of two adorable toddlers was purchased at the Antique Show at the Conway Expo Center, Conway, Arkansas on April 11, 2015. The back has a penciled caption, "Clayton, age 5 and Etta, age 2." At the very top of the page, barely legible is penciled Fanny Hubbell. This gave me a last name and several first names to look for at FamilySearch.org. Within seconds I had a census entry for 1910, New York state, that listed Clayton, Etta, and Fanny Hubbell, all three siblings and children of John K. and Idela Hubbell. Although Clayton and Etta were included in the Family Tree at FamilySearch.org, their birth dates were the year only and death dates and places were not entered. I was able to find death records for both.  Clayton died in New York in November 1985. Etta's married name was Edsall and she died as a widow in Huntersville, North Carolina August 10, 1986.  I've uploaded the photo to both Clatyon and Etta's Family Tree photo on FamilySearch.org and added their birth and death information.  Clayton and Etta should have grandchildren who would love to have this photo. The search is on for descendants! Any clues appreciated.
UPDATE and MYSTERY SOLVED-on August 4, 2015….through the collaboration of several people including Kathy Jones from the Huntersville Historic Society (North Carolina) and church friends Patti Hosford and Jennifer Hughes who posted the story on the Southern Mormons Facebook page which was then shared again by 12 more Facebook pages or groups including Hickory North Carolina and Frankfort Indiana Stake pages, the mystery is solved.  Joyce Taylor is the daughter of little Etta that is pictured here.  I got to talk to Joyce on the phone today and she shared this about her mother, Etta.  Etta grew up and lived most of her life in western New York.  She was a dedicated member of Lockport Emmanuel Methodist Church where she coordinated Bible classes and dinners among other volunteer activities.  Joyce reminisced that her mother was "happiest to be helping someone.  She was the perfect little mother." Joyce is a retired first grade teacher with thirty years of service herself.  Though Joyce lived her adult life in North Carolina and her mom in New York, they made four or five visits both ways each year.  The last few years of her life, the widowed Etta moved to Huntersville, North Carolina to be near Joyce.  That is where she died. "I miss her every day," said Joyce.
I will be in Charlotte, North Carolina next week and we are coordinating a visit so I can return the photo to Joyce in person.  What an honor!  Thank you to all the people who assisted in this happy return!