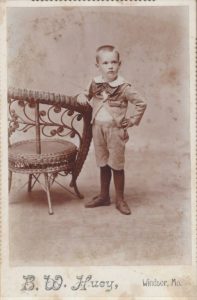 This photo was purchased at a flea market in Missouri. The back is captioned "With much love to cousin Gilbert. Frederick Callicotte July 12, 1895. With such an unusual name it was not difficult to find Fred Callicotte listed in the Family Tree at FamilySearch.org. He was born 19 February 1891 in Missouri. Note that this photo was made in Windsor, Missouri and the young man appears to be four-five years old. The general location and the age match the Fred found in the family tree.
I've added this photo to his profile in FamilySearch and will be contacting contributors to see if Frederick Callicotte is an ancestor of theirs. The 1920 US Census shows that Fred married Opal and they had a daughter named Helene, born about 1916. They lived in Kansas City, MO in 1920 and 1930. By 1940 they are enumerated in the census and living in St. Louis, MO and it indicates they lived at University in St. Louis in 1935.
Ancestry.com has a marriage record for a Helene Callicotte who married Thomas E. Condon in Manhattan, NY in 1947.  A google search for Helene Callicotte Condon turns up an Ebay listing for a painting by cubist artist Helene Callicotte Condon. I've not been able to learn if Helene had any children to whom I could return this photo. I'll keep searching!
Hooray! I was contacted by a relative who found this picture and story on ReturnThePhotos.com. Little Fred Callicotte's photo is headed to Ft. Pierce, Florida. Another Happy Return!