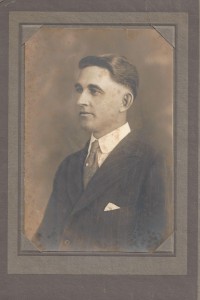 This photo was purchased at Come On In Antiques in Seymour, Missouri on March 31, 2016.  On the back of the picture holder is penciled "Homer E. McNatt." A search at FamilySearch.org landed a Homer E. McNatt in the 1920 U.S. census in Aurora, Lawrence, Missouri. His occupation was teacher…vocational education. It is indistinguishable if he was 25 or 35 at the time of the census. The indexer entered it as age 25. Could this be our guy?  A search at Ancestry.com yielded a Homer McNatt, age 55, in the 1940 U.S. Census, enumerated in LaDue, Henry, Missouri.
A family tree found at Ancestry.com shows a Homer Elkanah McNatt, born at Aurora, Lawrence, Missouri on October 1, 1884.  This tree shows that he married Sallie Turk Homer and died February 22, 1958 at Benton County, Missouri.  The FindAGrave.com entry for this same Homer E. McNatt shows that he is buried at Riverside Cemetery in Warsaw, Benton County, Missouri.  A Google search for "Homer E. McNatt Missouri" resulted in an interesting find. A Homer E. McNatt filed for a patent for a tire pressure tester in 1925. The application references Englewood, Missouri. It seems plausible that a teacher of vocational education might be interested in developing useful tools, so I'm making the leap that each of these finds is the same guy.
The family tree of Homer E. and Sallie Turk McNatt on Ancestry.com shows they had a son, Franklin Turk McNatt, who passed away in California in 1995. The 1940 census showed a daughter Elizabeth Ann, age 18. Son Robert B. McNatt, age 17. Son Frank T. McNatt, age 13. Elizabeth Ann and Robert were born in Washington, while Frank was born in Missouri.  Another Google search for "Robert B. McNatt Missouri" landed a Daytona Beach, Florida obituary for a Robert Burroughs McNatt who was born December 25, 1922 in Washington State, raised in Clinton, Missouri, and died in Florida March 17, 2014.  The obituary lists his surviving children, although no places of residence. The picture of Robert B. McNatt included with his obituary definitely bears a resemblance to this photo of Homer E. McNatt, who would be his father. I think we've found our guy. Just a matter of finding grandchildren who would like to have this photograph of their Grandfather.
UPDATE: The old photo is claimed by grandson Cameron McNatt from Maryland. Many happy returns to the McNatt family!