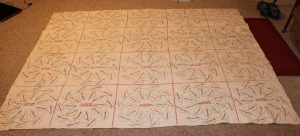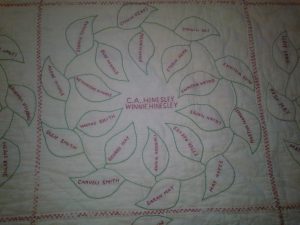 This quilt, made for Reverend T.W. Hayes, about 1927-1931, has been returned to the community that presented it to him almost 90 years ago. The 440 names on the quilt are primarily from the Rushing community in Stone County and Van Buren County, Arkansas and appear to be those who attended church services or music schools at Antioch General Baptist Church in Rushing during this era.  I've typed the names (with no spelling corrections) and listed them in alphabetical order below. If you would like a photo of a particular square containing the name of your ancestor, please email a request.
Here is a newspaper article about the quilt published by the Stone County Leader and the Voice (Van Buren County) in April 2016.
Re-gifted quilt is a treasure                                                                                      by Renee Rushing Carr
Roger and Ramona Rorie of Clinton delivered a quilt to my parents, Rodney & Angalee Rushing of Rushing, last week. It wasn't just any quilt. This quilt has 440 names on it! Each embroidered with red thread, contained on 20 blocks with 22 names each embroidered inside leaves stitched in green. The Rories had been to visit friends Toney & Sallie Parish in Clinton recently. The Parishes were distributing family heirlooms to family members.  No one in the family knew the names on the quilt and did not want to take it, believing it belonged elsewhere. The family story was that it was a gift to Toney's grandfather, T.W. Hayes, who had been a preacher throughout the region. They presumed it may have been a gift from a congregation where he preached, but they did not know where.  Ramona and Roger Rorie, former Fox residents, looked at the quilt and Ramona quickly recognized most of the names as people from the Rushing community. The most prevalent surnames, about 50 of each are Hinesley, Holland, and Rushing, as well as about 20 Harper surnames. The remaining 270 names are varied.
We speculate that women assigned the quilt squares out to one another to be embroidered, then together pieced the quilt and held a quilting bee. The quilting pattern outlines each of the leaves and stems and goes around each block.
Together my parents and I tried to "date" the quilt by figuring out which children were on it and which were not. Which girls were married and which were listed by their maiden names? We narrowed it down by discovering that Hubert Hinesley of Fox is possibly the youngest individual on the quilt. He was born February 2, 1927.  Based on this and the exclusion of some younger people, it is estimated that the quilt was made 1927-1931. My paternal grandparents, Ina Hinesley and Clay Rushing, were married in 1930.  She is listed on the quilt under her maiden name.  My four paternal great grandparents are also on the quilt: Phillip Malanthy (P.M.) & Nioma Rushing and Charles Marion & Lissie Hinesley.
In 1928 a very large baptism service for Antioch General Baptist Church took place with over 30 people from the Rushing area baptized.  A small picture of the group exists today. Rodney Rushing, whose father, Clay, was one of those baptized, has a theory that a revival covering several weeks preceded the baptism service and the names on the quilt may be those who attended the revival. Possibly Reverend Hayes was the evangelist at the revival? Mickey Parish of Clinton now has his great grandfather, T.W. Hayes', journal which records that during 1927-1932 he pastored churches at Fox and Shirley.
For those who enjoy family history and local history, the quilt is truly a gift. The quilt was first a practical gift of time and love in appreciation for Reverend Hayes. Now, almost 90 years later, it is a gift back to the Rushing Community as a historical artifact. The quilt documents the general vicinity where 440 people lived in 1927.  Though most of the names are associated with the community of Rushing, names of those who resided between Rushing and Shirley, in Van Buren County, are also included as well as some names from Fox.  A few surnames, including Turney, are from Cleburne County.  Some names on the quilt are from the Red River Township of Stone County. After researching Reverend T.W. Hayes and his wife, Mae, I found that they lived in Red River Township in 1930. That explains why some of the names on the quilt are from that township while not many names from Fox and Turkey Creek are included.
A few names are duplicated several times on the quilt. Earl Bonds' name is on the quilt five times. Born in 1906, he was still a bachelor at the time the quilt was made. He was a school teacher and also carried the mail on horseback for a time, so he would have been well known even though he did not live in the Rushing community.  His 1930 marriage record indicates he resided at Lydalisk, an M&NA railroad stop on the Little Red River, at the time of his marriage to Oma Lea Ramsey.
Ramona Rorie's uncles, Forrest and Leo Ticer, who lived at Fox, are on the quilt although her father, Joe, is not. Joe's older brothers were 22 and 24 at the time, both single, and likely were mobile enough to attend church services at various locations at the time, while Joe, at age 13, attended with his parents closer to home at Fox.  The names of Neal and Minnie Holland and their daughter, Julia Holland Powell, and her husband Albert are on the quilt. Neal was postmaster at Fox at the time, and his daughter, Julia, would serve as postmaster for many years.  One block of the quilt contains the names of preachers who had preached in the area. Also included are Ed and Ella Stevens who ran the large mercantile and post office at Rushing Junction where Ella served as postmaster for 39 years.
The quilt spent most of its 90 years in Conway where T.W. & Mae Hayes moved in the 1940's. Their daughter, Julia Parish Baker, who also resided in Conway, received the quilt upon her mother's death and was a good caretaker of it. In 2001, Toney and Sallie Parish moved his mother, Julia, to Clinton to better care for her until her passing. Her husband passed away recently. The quilt was found packed in a plastic bag on a closet shelf.
Some people would view it as coincidence or serendipity that the quilt was eventually returned from Conway to Clinton where the Rories would just happen to see it and recognize the names on the quilt. For my parents and me, it's a "Godwink"…sure evidence that this quilt that honored a man who preached the word of God was, through God's design, returned to the community and the very descendants of those who heard the word preached.  I'm sure they had no idea that this quilt on which they had labored would one day be a treasured heirloom documenting their very existence at a particular place and period in time.
We welcome any information anyone can provide about the quilt or those whose names are on it. At least two people whose names are included are still living: Hubert Hinesley of Fox and Selma Thornton (Campbell) of Shirley. We would love to know if there are others. The full list of 440 names, typed in alphabetical order, may be viewed at http://returnthephotos.com/re-gifted-quilt-a-treasure/
A display case will be made for the quilt for display at the Outreach Center at Antioch General Baptist Church at Rushing for Memorial Day services on May 29.
(Renee Rushing Carr is a genealogy enthusiast and volunteer Director of the Family History Center at 612 S. Peabody Street in Mountain View. She is also currently serving as president of the Stone County Historical Society.)
| | |
| --- | --- |
| Mrs. Ira | Anderson |
| J. | Arnold |
| J. | Baker |
| H.A. | Bellamy |
| J.W. | Bellamy |
| Maggie | Berry |
| Bob | Berry |
| Belle | Berry |
| Claudine | Berry |
| Helen | Berry |
| Tommy | Berry |
| Walter | Berry |
| Nora | Berry |
| Robert | Bishop |
| Alice Pearl | Bishop |
| Roxie | Bishop |
| Mrs. | Bishop |
| Mr. | Bishop |
| J.F. | Boggs |
| Earl | Bonds |
| Earl | Bonds |
| Earl | Bonds |
| Earl | Bonds |
| Earl | Bonds |
| King | Bradford |
| Ray | Branscum |
| Remath | Branscum |
| Truman | Branscum |
| Clarence | Branscum |
| Lula | Branscum |
| Elma | Branscum |
| Ella | Brown |
| Johnie | Brown |
| Mrs. A.E. | Bunner |
| Mrs. J.A. | Callender |
| J.A. | Callender |
| Aubie | Carroll |
| C. | Casey |
| D. | Cavender |
| Sarah | Chester |
| Sally | Cocher (Kocher) |
| J.E. | Cox |
| Mary | Dabbs |
| Mrs. Ed | Dabbs |
| Edd | Dabbs |
| Thelma | Daniels |
| Sherman | Daniels |
| Lodell | Daniels |
| Rachel | Daniels |
| Willis | Daniels |
| Lillie | Daniels |
| Jessie | Daniels |
| Francis | Deason |
| W.N. | Duncan |
| Jessie | Emerson |
| Earl | Emmerson |
| Evelyn | Emmerson |
| Frona | Erving |
| Mrs. | Erving |
| Lesley | Etter |
| Pearl | Etter |
| W. | Faulkner |
| Velma | Files |
| Lee | Files |
| Johnie | Files |
| Garner | Files |
| Mattie | Files |
| J. | Gardner |
| Sam | Giddeon |
| Hattie | Goff |
| Will | Goff |
| Altha | Green |
| George | Guffey |
| Maud | Guffey |
| T. | Harness |
| Martha | Harness |
| G. {George} | Harper |
| Dinna | Harper |
| Lila | Harper |
| Ruby | Harper |
| Lotha | Harper |
| Ual | Harper |
| Oren | Harper |
| Anna | Harper |
| Hubert | Harper |
| V. | Harper |
| Thurlo | Harper |
| Edith | Harper |
| Roy | Harper |
| Una | Harper |
| Ralph | Harper |
| Ray | Harper |
| Rina | Harper |
| Henry | Harper |
| M. | Harper |
| Junie | Harper |
| Lilian | Hayes |
| May | Hayes |
| Ollie | Hazlett |
| Ella | Hines |
| Gladys | Hines |
| Alice | Hinesley |
| Azra | Hinesley |
| Emma | Hinesley |
| Losia | Hinesley |
| Ebb | Hinesley |
| Elmer | Hinesley |
| Mollie | Hinesley |
| Chas. Howard | Hinesley |
| Raymond | Hinesley |
| Epha | Hinesley |
| Audie | Hinesley |
| Gladys | Hinesley |
| Nellie | Hinesley |
| Emma | Hinesley |
| Elbert | Hinesley |
| Elosia | Hinesley |
| Roy | Hinesley |
| Nellie | Hinesley |
| Azra | Hinesley |
| Henry | Hinesley |
| Ruth | Hinesley |
| Marion | Hinesley |
| Lissie | Hinesley |
| Ina | Hinesley |
| Carl | Hinesley |
| Emmett | Hinesley |
| Ora | Hinesley |
| Orpha | Hinesley |
| Kermit | Hinesley |
| Winnie | Hinesley |
| Carson | Hinesley |
| C.A. | Hinesley |
| C.A. | Hinesley |
| Winnie | Hinesley |
| Herman | Hinesley |
| Dicey | Hinesley |
| Mary | Hinesley |
| Elton | Hinesley |
| Hubert | Hinesley |
| Carl | Hinesley |
| Esther | Hinesley |
| Eva | Hinesley |
| Onis | Hinesley |
| Nina | Hinesley |
| Dony | Hinesley |
| J.M. | Hinesley |
| Sally | Hinesley |
| Jesse | Hinesley |
| Ray | HInesley |
| R.F. | Hinesley |
| Tom | Hinesley |
| Eller | Hinesley |
| Pearl | Hinkle |
| John | Hinkle |
| Ruth | Hinkle |
| George | Hinkle |
| Alene | Hinkle |
| Nethelene | Hinkle |
| Ruthel | Hinkle |
| Dude | Hinkle |
| Lonzo | Hinkle |
| Melvin | Hinkle |
| Mary | Hinkle |
| Ike | Hinkle |
| Eliza | Holland |
| C.A. | Holland |
| Thomas | Holland |
| Norma | Holland |
| Neal | Holland |
| Minnie | Holland |
| D. | Holland |
| Iris | Holland |
| Barney | Holland |
| Lee | Holland |
| J.R. | Holland |
| Ola | Holland |
| Nell | Holland |
| Mary E. | Holland |
| Hubert | Holland |
| Harriett | Holland |
| M. F. | Holland |
| J.M. | Holland |
| A. | Holland |
| Louella | Holland |
| H. | Holland |
| Marketia | Holland |
| Grady | Holland |
| Forrest M. | Holland |
| Mary Jo | Holland |
| Julia | Holland |
| J.E. | Holland |
| Eltis | Holland |
| Pearl | Holland |
| Finis | Holland |
| C.A. | Holland |
| Liza | Holland |
| Murel | Holland |
| Arthur | Holland |
| Ben | Holland |
| Jewell | Holland |
| Joe | Holland |
| Ruth | Holland |
| Fern | Holland |
| Hope | Holland |
| John | Holland |
| Virginia | Holland |
| Helen | Holland |
| B. | Holland |
| Maggie | Holland |
| Neda | Holland |
| Odis | Holland |
| Bryant | Holland |
| Chase | Holland |
| Grace | Holland |
| Dovie | Holland |
| Ethel | Holland |
| Alvin | Holland |
| Tom | Holland |
| Mattie | Holly |
| Clyde | Hooten |
| Lena | Hooten |
| W. | Hulsey |
| Minna | Hulsey |
| Bitha | Hulsey |
| B. | Isaac |
| Claud | Jenkins |
| Mary | Jenkins |
| Robert | Jennings |
| Grover | Jennings |
| Robert | Jennings |
| Robert | Jennings |
| Robert | Jennings |
| Robert | Jennings |
| Robert | Jennings |
| Robert | Jennings |
| Anna | Kendall |
| Mrs. | Kendall |
| Anna | Kendall |
| J.E. | King |
| J. | King |
| J.E.G. | Knight |
| Bonie Ruth | Lewis |
| Major | Lewis |
| Mamie | Lewis |
| Lissia | Lewis |
| Richard | Lewis |
| Mary | Lewis |
| Charlie | Lewis |
| Dlue | Lewis |
| Owen | Long |
| Laura | Long |
| David | Long |
| Elgie | Long |
| Lucille | Long |
| Fate | Long |
| Flora | Long |
| Cal | Long |
| Johnie | Long |
| Pinkney | Long |
| Irine | Long |
| Ollie | Long |
| Martina Jean | Long |
| Matt | Long |
| Elbert | Lowrance |
| Ima | Lowrance |
| Herbert | Lowrance |
| Almer | Lowrance |
| Bud | Lowrance |
| Earl | Lowrance |
| Irma | Lowrance |
| Soland | Lyday |
| Alice | Lyday |
| Lucy | Lyday |
| May | Lyday |
| Marion | Lynn |
| Cora | Lynn |
| Leona | Martin |
| Marie | Martin |
| Marie | Martin |
| Sarah | May |
| George | May |
| Rosa | May |
| Lucy | May |
| Evelyn | May |
| Mildred | May |
| H.A. | McCowan |
| Imojene | Moncrief |
| Eunice Dean | Moncrief |
| Martha | Moncrief |
| Edith | Moncrief |
| Mildred | Moncrief |
| L.G. | Montgomery |
| D.N. | Moody |
| Lina | Moore |
| Mabel | Moore |
| Lois | Moore |
| Hubert | Moore |
| Lula Faye | Moore |
| Walter | Moore |
| Angie | Moore |
| Willie | Moore |
| Frazie | Moore |
| Grace | Moore |
| Pearl | Moore |
| Lillian | Moore |
| Robert | Moore |
| Sam | Moore |
| Ira | Moore |
| J.H. | O'Neal |
| W.E. | Pearson |
| W. | Phelps |
| Ruby | Phelps |
| Theesta | Phelps |
| Mae | Pierce |
| Tempa | Pierce |
| Albert | Powell |
| Julia | Powell |
| Lomah | Reeves |
| Mat | Reeves |
| Hiriam | Reeves |
| Eva | Reeves |
| Mat | Reeves |
| J.D. | Reeves |
| Hiriam | Reeves |
| Orvel | Reeves |
| Herman | Reeves |
| Orvel | Reeves |
| Hiram | Reeves |
| Lomah | Reeves |
| Etter | Reeves |
| T.E. | Rhoades |
| Edward | Rhoades |
| Hadley | Rushing |
| Blonde | Rushing |
| M.M. | Rushing |
| Cora | Rushing |
| Homer | Rushing |
| Hazel | Rushing |
| Opal | Rushing |
| Anna C. | Rushing |
| Mary | Rushing |
| Champ | Rushing |
| Ira Alice | Rushing |
| Roy | Rushing |
| Joe | Rushing |
| Maye | Rushing |
| Nat | Rushing |
| Ethel | Rushing |
| Clay | Rushing |
| Blake | Rushing |
| Basha | Rushing |
| Nioma | Rushing |
| P.M. | Rushing |
| Mark | Rushing |
| Lola | Rushing |
| J.B. | Rushing |
| Maggie | Rushing |
| Mitchell | Rushing |
| Wilson | Rushing |
| Claud | Rushing |
| Hadley | Rushing |
| Blonde | Rushing |
| Cora | Rushing |
| Matt | Rushing |
| P.M. | Rushing |
| Nioma | Rushing |
| Basha | Rushing |
| Maggie | Rushing |
| Blake | Rushing |
| Clay | Rushing |
| Charles M. | Rushing |
| Anna | Rushing |
| Lora | Rushing |
| Mark H. | Rushing |
| Alice | Rushing |
| J.W. | Rushing |
| Norma Ruth | Rushing |
| Julia | Rushing |
| Calvin | Rushing |
| Curtis | Rushing |
| Edith | Rushing |
| J. | Sandage |
| Anna | Shanks |
| Ollie | Shanks |
| R.E. | Smallwood |
| Mr. | Smith |
| Mrs. | Smith |
| Zular | Smith |
| Tina | Smith |
| Carvell | Smith |
| Ollie | Smith |
| Wayne | Smith |
| Barbara | Smith |
| Thomas | Smith |
| Eltha | Stephens |
| Opal | Stephens |
| Flossie | Stephens |
| Harbet | Stephens |
| E. | Stevens |
| E. E. | Stevens |
| H. | Stroud |
| R.A. | Suggs |
| R.A. | Suggs |
| D.M. | Taylor |
| Lucy | Taylor |
| Nettie | Taylor |
| Ephraim | Taylor |
| Evelyn | Taylor |
| Clara Fae | Taylor |
| Herbert | Taylor |
| Pairlee | Thomas |
| Omega | Thompson |
| Ethel | Thorlton |
| George | Thorlton |
| Ida | Thornton |
| John | Thornton |
| Selma | Thornton |
| J.R. | Thornton |
| James | Thornton |
| Mary Sue | Thornton |
| Evelyn | Thornton |
| Forrest | Ticer |
| Leo | Ticer |
| Everett | Treat |
| Lillie | Treat |
| L. | Treat |
| Bettie Jo | Turney |
| Henry L. | Turney |
| Hershel | Turney |
| John | Turney |
| Winnie | Turney |
| Leroy | Vandiver |
| Jewel | Vandiver |
| Madella | Vandiver |
| Gay | Whitaker |
| Golda | Williams |
| Alice | Williams |
| Calla | Williams |
| C.F. | Wood |