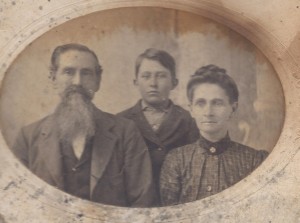 This old family photo was purchased at TPM's flea market in Greenbrier, Arkansas on December 7, 2015.  The only clue is a very faded and hard to read caption on the back that says "Mr. and Mrs. Jacobs" on one line.  The second line is even harder to decipher but appears to say "and Banks Irvin." Banks is clear enough to read, but the second name is questionable.  However, census entries at FamilySearch.org and Ancestry.com show a Banks I. Jacobs from Altoona, Pennsylvania. Further digging yielded the mother lode of information with an Ancestry.com Pennsylvania WWII Veteran Compensation Application file for Banks Irvin Jacobs, born November 9, 1924.  He served in the Army Air Corps.
The boy in the picture looks to be about ten years old, meaning the photo was taken in the 1930's.  I originally thought the photo was early 1900's so there is some question as to whether I have the correct family.  The application lists that Banks Irvin Jacobs has a one-day old son, Robert Banks Jacobs. The family lived at 504 S. Court St., Crown Point, Indiana.  A Google search shows that a Robert Banks Jacobs today lives in Crown Point, Indiana and is a professional engineer, licensed with the state of Indiana.  He would be about 65 years old. My next hurdle is to find contact information for Robert Banks Jacobs so I can ask him to
UPDATE: A search in 2020 resulted in finding an obituary for Banks I. "Bud" Jacobs who passed away in 2017 at Crown Point, IN at the age of 92. The obituary says his father was Banks I. Jacobs. That explains the age gap alluded to above and would mean the photo was probably taken before 1900. It would be his father that is the little boy in the photo. https://www.legacy.com/obituaries/nwitimes/obituary.aspx?n=banks-i-jacobs-bud&pid=186977649&fhid=4991. Still searching for grandchildren of the young Banks Irwin Jacobs in the photo.