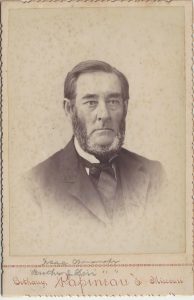 Isaac has an unusual last name, Wanamaker, which is always helpful in identifying the subject and locating descendants. Although the handwriting is hard to discern on the front, the backside has it written more clearly. The picture was purchased in Ozark, Missouri at Keen Eye Antiques on March 31, 2016. I searched for Isaac Wanamaker on FamilySearch.org and there found a link to FindAGrave.com which shows he was born 1818, died 1890, and is buried at Laclede Cemetery in Linn County, Missouri beside his wife, Mary A. Way Wanamaker. Another link on that page, goes to his daughter's FindAGrave.com entry, Louisa Jerusha Wanamaker Kaye. Louisa's entry has some old photographs that were uploaded to the site by Kaye descendants. Fortunately the FindAGrave.com contributor and descendant has an email listed through which I may contact him. An 1880 census on FamilySearch.org indicates Isaac was born in Canada.
UPDATE: I added the photo to Isaac Wanamaker's profile at FamilySearch.org in February 2017. Three and 1/2 years later I got an email from his great-great grandson, Glen Kaye, from Salem, Oregon. This went from "cold case to mystery solved!" Glen found the photo on FamilySearch.org and the caption I added led him to ReturnThePhotos.com where he was able to read about my hunt to return the photo to family. Glen shared some details of Isaac's life from his research:
Isaac is identified as a "yeoman," in other words a farmer, in the 1861 census for Ontario, Canada. His religion is listed as "Desciples."
Isaac grew up in Canada and emigrated to Missouri in 1869 from Prince Edward County, Ontario, Canada. He was a farmer in both places.
The family is profiled in "History of Howard and Chariton Counties," a vanity press publication. For Isaac it reads:
"Isaac Wanamaker has been a resident of Chariton County for fourteen years, and is an industrious, well-respected farmer of Cunningham township. He was born in Canada, August 18, 1818, and was a son of Andrew P. and Maria (Lichult) Wannamaker, both originally from the State of New York, but who emigrated to Canada in 1809. Isaac grew up in Canada and was married there February 24 1842 to Miss Mary Ann, daughter of John Way, also of Canada. He continued to reside in the country of long winters and short summers and engaged in agricultural pursuits until 1869, when he emigrated to the United States, showing the good judgement to come [to] Chariton county, Missouri, as the choice part of the country for a good home and a prosperous, contented life. Here he has since lived and he has not been disappointed in the opinion he had formed of the soil climate and other conditions of this fair Hersperian Jordan of Central Missouri. He has a neat farm substantially improved – a comfortable home where he can spend the evening of life in ease, and free from the feat of the gaunt wolf, 'Who,' in the language of Dante, 'in her leanness seems full of all wants.' Mr and Mrs. Wannamaker have reared a family of four children: Noonan E., agent of the Hannibal and St. Joe Railroad, at Laclede, Missouri; George W. an attorney at law at Bethany, Harrison County, Missouri; Louisa J., wife of William J.B. Kaye; and William F., a farmer of Cunningham township. Mr. Wannamaker's father came out to Missouri with him and died here February 22, 1881, at the advanced age of ninety-eight."
The biography of son George Wanamaker describes Isaac in "History of Northwest Missouri" as follows: "He had a fair education and was a liberal supporter of public schools. In Canada, he was a liberal in politics and in the United States a republican. In Chariton County where he settled in 1869, he became one of the larger farmers, and died on his country estate in 1890."
The photo was purchased in Missouri, researched in Arkansas, then returned to family in Oregon. Another happy return!