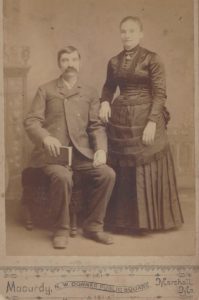 This lovely old photo was purchased in Missouri in 2016.  The photo was also taken in Missouri…in the town of Marshall. The photographer was Macurdy. On the back is a penciled caption as follows:
McBride Baker
Sallie Hayes Baker
The picture appears to be made around 1890-1910 based on the style of clothing and the two appear to be in their 20's and about the same age, so I assume they are husband and wife.
I first looked in the Tree at FamilySearch.org and found a John McBride Baker.  This McBride was born in August 1888 in Saline County, Missouri which happens to be the county where Marshall Missouri is located, so it seems a good chance that this guy is one and the same. But oddly, in the tree, his mother is listed as Sarah Frances Hays and a wife is not listed. Perhaps the person who captioned the photo got it wrong? I will email the submitter of the profile in FamilySearch and see if she can help solve the mystery. The search is on!
UPDATE: A great-great granddaughter of McBride Baker left a message on this page that she and her mother had been talking about McBride Baker and her mother didn't know much about him since he died young. She decided to google his name and see what she could find which brought her to this entry and photo on the website. They were delighted to find this old photo and are anxious to have it as part of the family again. The old photo is being mailed to Sherri in Frisco, Texas. Another happy return…from Missouri to Arkansas to Texas.