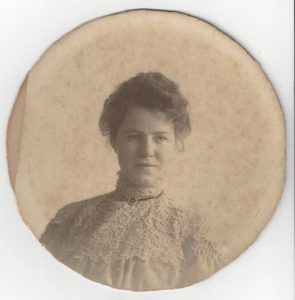 This lovely photo was purchased at an auction held at Fox, Arkansas on September 30, 2017. The auctioneer said this photo and others in the collection came from a 97 year-old woman's sale. She resided at Fairfield Bay and was moving to Minnesota. The picture was in a round silver frame and on the back was written "Maude Smith Clark." That alone would have not been enough to figure out who she was but other pictures in the collection indicated the photos were from Wisconsin. I did a search on FamilySearch.org for Maude Smith residing in Wisconsin and found one born in 1882 who married Gustav Clark. Bingo! Gus Clark was named on the back of another photo in the collection as a great-grandson of the husband and wife pictured. Now I know who beautiful Maude married. It appears from census records that the Gus & Maude had no children. I'll be looking for any other Clarks who might want to have this photo of their great-great-great aunt.
UPDATE:  I received a message on from a 2nd Grandniece of Maude's from Rochester, Minnesota. This photo will be shipped to Dawn along with the family photos bought at the same auction. She was so excited and grateful to learn about them.
Another happy return from ReturnThePhotos.com!