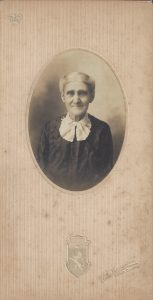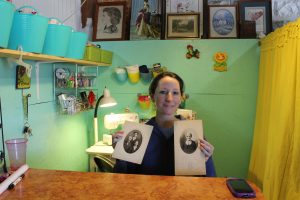 This photo was purchased at BeccaBoosTique Flea Market in Alpena, Arkansas on February 15, 2017. The proprietor, Becca, said it was purchased locally. The embossed photographer stamp on the paper frame reads Pierce County, Missouri. The back of the paper frame is labeled Mrs. E. B. Abbey Age 70 years, July 24, 1907. This gives me an approximate year of birth of 1837 for Mrs. Abbey. I was able to find a record of an Abbey who lived in Pierce City, Lawrence County, Missouri who was born in New York.  Ancestry.com provided the best clue with a 1910 census listing an Elmer B. Abbey and wife, Julia Abbey, living in Kalamazoo County, Michigan. The census shows Julia as being born in New York. Although the age of Julia is about ten years off between the photo label and the census record, this still is likely to be the correct identity of Mr. E. B. Abbey.
A FamilySearch.org search provided a Michigan marriage record for a son of Elmer and Julia's.
More digging at FamilySearch.org for Julia Abbey landed a death record in Kalamazoo, Michigan. She passed away in 1920 as a widow at the age of 74, putting her year of birth at 1846. It's a mystery why she had her picture made in 1907 in Pierce City, Missouri, but perhaps she was visiting family there at the time. The death record also gives another good clue. Julia's father's surname was Summy, so this is presumed to be Julia's maiden name. This crucial information allowed me to find Julia Summy in the FamilyTree at FamilySearch.org where the person who entered Julia's information has an email address. I'm sending an email to see if they can give me a positive ID on Mrs. E. B. Abbey who appears to be Julia Summy Abbey. Hoping to return this photo soon!
UPDATE: On September 9, 2017 I received an email response from the FamilySearch.org contributor of Julia Summy Abbey. She's a cousin of Julia's several times removed, and an avid genealogist who lives in Montana. I'm mailing the 110 year-old photo to her. I found it in Arkansas and I'm sending it to Montana, and the search involved Missouri, New York, and Michigan. Oh what fun the hunt has been!